Wow, we have received some great reception for the kickstarter promotion for our GI Joe fan-film "Initiate". We are so excited about this project! 71% funded with 16 days left to hit our goal! At this rate, we will be able to make a wonderful film. Had a friend on facebook ask us if there was a way to donate through paypal, so we've developed a widget: While this isn't through kickstarter, I will make sure that we honor the same rewards here as for our kickstarter project. ALL of the funds acquired through this button will be spent on resources for the film. To re-iterate our previous statements, we are in no way connected to Paramount, Hasbro or any other company with rights to the Joe property other than we are huge fans. It is not our goal to make any money on this project...only to give fans of GI Joe a great series to watch for FREE on the web. If, by some miracle we come up with more money than we can dump into the production (we can always add more), any proceeds will be donated to a military charity like wounded warrior. We totally respect those OFFICIALLY responsible for JOE and highly encourage you to check out John Chu's "GI JOE: Retaliation" this summer! Chu has really reached out to the fan base and from what I've seen of the trailers, his take on the franchise is going to be AMAZING! We're all stoked here. So, what's new with the film? Well, we're in discussion with a very amazing knife-maker who may be helping us with a few hero blades for the film. Yes, there will be a very cool knife fight between some familiar characters. Also, we're closing a deal with the folks at Pit Viper Studios to help us make our villains look wicked and in decent quantity. Their stuff is amazing and you can check them out at
PIT VIPER STUDIOS
on the web. If you're looking for cool helmets for your film project or costume, these guys are the bomb! We've also added another character to the reveal roster with Chuckles, played by Bryan Massey! Check out his resume on IMDB,
HERE!
He's one talented cat who stays busy making movie magic.
We're also waiting for a very cool package from the folks at Delia Tactical! They have sent us some very cool stuff we'll be using in the film. Go to their site and check out
THE RAPTOR
for a taste of things to come!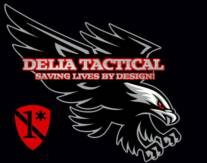 We also have an OFFICIAL SITE NOW! Click
HERE
for details!